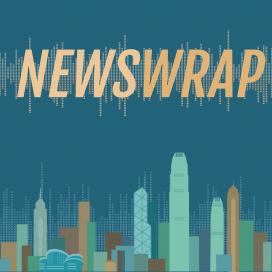 Newswrap
Description:
Our main evening newscast. Weekdays 18:00 - 19:00.
Presenter:
RTHK Newsroom
Now playing:
足本播放 Play full episode
Selected audio segments:
Govt comes under fire for altering water sampling method for tests
Listen
Democratic Party lawmaker Helena Wong said she was disappointed that the government has rejected recommendations by a Commission of Inquiry to test drinking water at all public housing estates. The government plans to test hundreds of water samples next year as part of efforts to improve safety standards -- more than two years after the tainted water scandal affected at least 11 public housing estates. Ms Wong told Ben Tse that the move will not help ensure water safety.
Trump's call to renegotiate Iran nuclear deal may not work
Listen
The Iranian president Hassan Rouhani has hit back at scathing criticism by US President Donald Trump - amid a row over his country's nuclear agreement. In his speech at the UN General Assembly on Tuesday, President Trump wants the deal with Iran to be renegotiated. But the European Union which was one of the parties involved says there's no need for that, because the agreement is working. Jim Gould asked a professor of Peace Studies at Bradford University in Britain, Paul Rogers, whether there is likely to be an impasse.