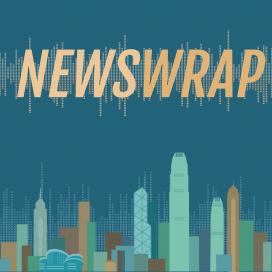 Newswrap
Description:
Our main evening newscast. Weekdays 18:00 - 19:00.
Presenter:
RTHK Newsroom
Now playing:
足本播放 Play full episode
Selected audio segments:
Express rail's opening will not be affected by what's happening in Legco
Listen
A commentator from the Polytechnic University Chung Kim-wah says the scheduled opening of the express rail next year will not be affected by the way legislators deal with the non-binding motion before Legco on the co-location immigration facilities plan at the West Kowloon Terminus. He explained to Jim Gould why the Chief Executive Carrie Lam had said the government will trigger the three-step process to implement the plan only after the lawmakers have voted on the motion.
Outpour of compassion for mainland woman who killed her disabled son
Listen
The case of an elderly woman found guilty of killing her disabled son in the mainland has provoked an outpouring of compassion from Chinese social media users. The 83-year-old identified only as Ms Huang was convicted of the manslaughter of her disabled son, Li. She fed her 46-year old son about 60 sleeping pills on May 9th and strangled him with a silk scarf as she used cotton pads to cover his nose. Huang's case was heard by the People's Intermediate Court of Guangzhou and she received a three-year suspended prison sentence. She said she took her son's life because she feared no one would care for him after she died. Li was born prematurely with severe mental and physical disabilities that left him unable to walk or talk. China analyst Mark O'Neill spoke to Annemarie Evans about the case.