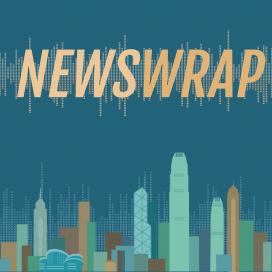 Newswrap
Description:
Our main evening newscast. Weekdays 18:00 - 19:00.
Presenter:
RTHK Newsroom
Now playing:
足本播放 Play full episode
Selected audio segments:
Trump doesn't have many bargaining chips: correspondent
Listen
RTHK's Beijing correspondent Paul James says US President Donald Trump doesn't have a lot of bargaining chips to play with when it comes to putting pressure on China to deal with North Korea's nuclear and missile programme. He says he doesn't expect Beijing to downgrade its ties with Pyongyang, as suggested by Trump. James tells Annemarie Evans that China is going to hold its interests true to itself when it deals with Trump.
Schools in Delhi closed because of severe air pollution
Listen
All schools in the Indian capital Delhi have been shut with air pollution at 70 times the World Health Organization's safe level in some areas. The authorities are monitoring the situation on an hourly basis to see whether the closure should be extended. All outdoor activities have also been banned across the capital's schools. Dense smog shrouded the roads for a second day in Delhi, regarded as the world's most polluted major city. Air quality worsens ahead of the onset of winter due to vehicle emissions and the burning of crop stubble by farmers in neighbouring states. RTHK's Delhi correspondent Murali Krishnan tells Annemarie Evans that the situation in the city is very bad.