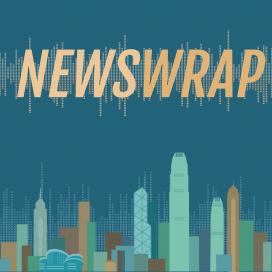 Newswrap
Description:
Our main evening newscast. Weekdays 18:00 - 19:00.
Presenter:
RTHK Newsroom
Now playing:
足本播放 Play full episode
Selected audio segments:
No need to panic over outbreak of TB in school
Listen
The chairwoman of the Hong Kong Lung Foundation Dr Maureen Wong says there is no need to panic over an outbreak of tuberculosis in a secondary school in Sha Tin. The Kiangsu-Chekiang College has confirmed that seven of its students and a teacher have contracted the airborne disease. Dr Wong says vaccinations against TB are very effective but there could be cases where the desired results may not be achieved. She spoke to Jim Gould.
Number of countries legalising same-sex marriage increasing
Listen
RTHK's Australia correspondent Gerry Gannon says the number of countries with marriage equality is increasing. He says Australia has become the latest one with those who support such unions achieving a resounding victory. Gannon says not everyone voted in the eight-week nationwide poll on whether same-sex marriage should be legalised, but the turnout was still good. He tells Annemarie Evans what happens next.