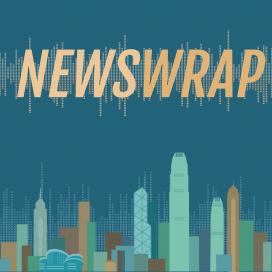 Newswrap
Description:
Our main evening newscast. Weekdays 18:00 - 19:00.
Presenter:
RTHK Newsroom
Now playing:
足本播放 Play full episode
Selected audio segments:
Amcham downplays Donald Trump's rhetoric
Listen
The American Chamber of Commerce in Hong Kong has played down concerns about the incoming US president's anti-China rhetoric. Its chairman, Walter Dias, believes the likelihood of an improved American economy under Donald Trump would be positive for trade in Asia. He also says he expects new opportunities, as well as challenges in Sino-US ties, despite Trump's tough talk. The Director of the Hong Kong America Center, Glenn Shive, tells Annemarie Evans that it is not right to say Trump will be declaring a trade war on China.
Journalists' group says it's worried
Listen
The International Federation of Journalists (IFJ) says the apparent abduction of a media worker from Hong Kong by mainland security agents and the willingness of several local outlets to publicise forced confessions were the most worrying developments of 2016. In its annual China Press Freedom report, the IFJ also highlighted continued efforts to silence the media on the mainland, and efforts by local authorities to stifle expression and reduce media diversity. The Project Manager at IFJ Asia-Pacific, Serenade Woo, tells Jim Gould that the Hong Kong government had used the civil courts, unfair regulations, and the commercial power of advertising to stifle the media.