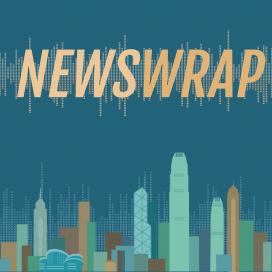 Newswrap
Description:
Our main evening newscast. Weekdays 18:00 - 19:00.
Presenter:
RTHK Newsroom
Now playing:
足本播放 Play full episode
Selected audio segments:
Disqualified lawmakers move out of Legco offices
Listen
Former pro-democracy lawmaker, Edward Yiu, who was recently disqualified over oath-taking, says decisions will be made next month as to whether he will appeal against the court ruling earlier this month and whether to run in by-election. He was speaking as he's vacated his LegCo office this afternoon along with three other pro-democracy lawmakers who have also been disqualified. Annemarie Evans asked him what he made of the experience of being a lawmaker over the past nine months.
Pakistan court disqualifies PM Sharif from office
Listen
Pakistan's prime minister, Nawaz Sharif, has resigned, after being disqualified from office by the supreme court, following a corruption investigation against his family. The ruling follows accusations relating to the Panama Papers published two years ago, in which three of Mr Sharif's four children were implicated. Annemarie Evans asked our South Asia correspondent Murali Krishnan if this comes as a surprise.