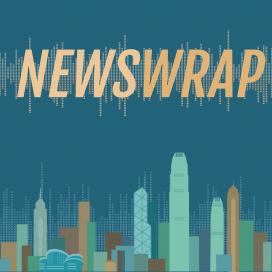 Newswrap
Description:
Our main evening newscast. Weekdays 18:00 - 19:00.
Presenter:
RTHK Newsroom
Now playing:
足本播放 Play full episode
Selected audio segments:
Call to dump HK$3bn plan for new airport terminal
Listen
The Airport Authority's 3-billion dollar plan to transfer travelers coming via the Hong Kong-Zhuhai-Macau Bridge directly to the airport has been challenged, with an alternative proposal estimated to cost just a tenth of that amount. The Professional Commons think tank, environmental group Green Sense, and the Airport Development Concern Network, came up with the counter proposal. Jim Gould spoke to Alan Lai from the Professional Commons.
Philippines lawmakers cut off funds to rights body
Listen
There was growing astonishment in the Philippines after the Philippine Congress decided to almost eliminate the budget of the country's Commission on Human Rights. The public body - which has done much to investigate President Rodrigo Duterte's controversial war on drugs - has been operating on an annual budget of about 14 million US dollars. Next year, it will be cut to just 20 dollars. The New York-based group, Human Rights Watch, has condemned the decision by Philippine lawmakers. Jim Gould spoke to our Manila correspondent, Alan Robles.