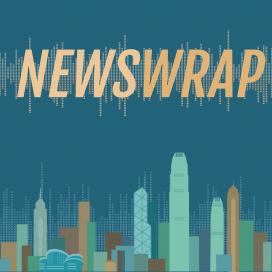 Newswrap
Description:
Our main evening newscast. Weekdays 18:00 - 19:00.
Presenter:
RTHK Newsroom
Now playing:
足本播放 Play full episode
Selected audio segments:
Calls to store paper waste at home amid a waste crisis
Listen
A green group says the recycling industry of Hong Kong should upgrade its skills and technology, in the wake of a recent crackdown by the mainland on dirty waste imports. A waste crisis unfolds as local recycling firms announced they would stop collecting scrap paper for a week to protest against a delay in getting export permits to the mainland. The Green Earth's executive director, Edwin Lau, said the industry should improve the standard of their recyclables. He also told Ben Tse people should help reduce the wastage of paper and store waste at home if possible.
Plans to drop joint vetting of listing bid a 'climb-down'
Listen
Shareholder activist David Webb has slammed a decision to scrap a proposed committee that will allow the Securities and Futures Commission and the Hong Kong Exchanges and Clearing to jointly vet listing application. The government came up with the original proposal more than a year ago to strengthen market quality. But it now said letting just the HKEx to scrutinise listing application is a better way. Mr Webb, who's also a former director of the HKEx, told Jim Gould that the revision is a climb-down.