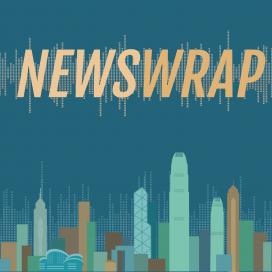 Newswrap
Description:
Our main evening newscast. Weekdays 18:00 - 19:00.
Presenter:
RTHK Newsroom
Now playing:
足本播放 Play full episode
Selected audio segments:
'More help needed to curb worrying trend of child abuse'
Listen
The chairwoman of the Hong Kong Committee on Children's Rights, Priscilla Lui, says more help needs to be given to parents who are inadequately supported and unprepared for caring for children. She said latest government statistics that showed a rise in child abuse complaints were very worrying, and could reflect that parents and other children were turning to violence. She told Jim Gould that the problem needs to be addressed through prevention from the government, as well as the whole of society.
Iran summit aims to avert Idlib offensive
Listen
Turkish and Russian officials are meeting in Iran for talks on the future of Syria's war. Turkey aims to avert a ground offensive by Syrian troops against rebels in Idlib province. Russian commanders have reportedly threatened to attack militants in an area protected by US troops. RTHK correspondent Rosie Lyse-Thompson told Annemarie Evans why troops were concentrating on Idlib.