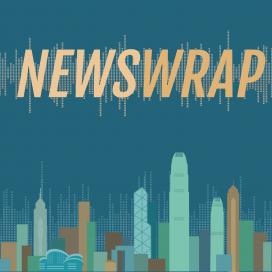 Newswrap
Description:
Our main evening newscast. Weekdays 18:00 - 19:00.
Presenter:
RTHK Newsroom
Now playing:
足本播放 Play full episode
Selected audio segments:
We may have lost a battle, but we're still fighting a war: Claudia Mo
Listen
The convenor of the pan-democrats, Claudia Mo, conceded that opposition lawmakers will have a very difficult time ahead. That's because the camp's defeat in Sunday's by-election dashes their hopes of regaining veto power in the legislature, and means they will be outnumbered 18 to 16 in the council's geographical constituencies. With the pro-establishment side eyeing more changes to LegCo rules, Mo stressed her camp will definitely try to hold the fort. She added that she and her counterparts will continue to fight for true democracy and oppose the government's controversial proposals like a mega plan to reclaim around 1,700 hectares of land in waters near Lantau. Jim Gould asked her if it was wrong to pick 61-year-old veteran unionist Lee Cheuk-yan to run in the campaign.
Crimea standoff could become the next flashpoint
Listen
Ukraine's President, Petro Poroshenko, has called on parliament to impose martial law for sixty days, in response to Russia's seizure of three Ukrainian navy vessels. Kiev says the ships had every right to pass through the Kerch Strait between Crimea and Russia under a deal signed fifteen years ago. But Russia, which annexed Crimea from Ukraine, says the ships were in Russian territorial waters. RTHK's Moscow correspondent, Fred Weir, told Annemarie Evans that it's the most serious incident between the two sides that's happened in a long time, and could easily spiral out of control.