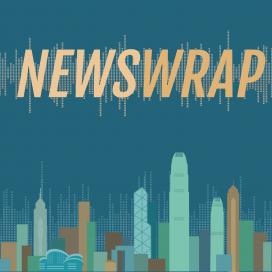 Newswrap
Description:
Our main evening newscast. Weekdays 18:00 - 19:00.
Presenter:
RTHK Newsroom
Now playing:
足本播放 Play full episode
Selected audio segments:
Democrats want public debate on extradition
Listen
Twenty-five pro-democracy lawmakers have challenged Chief Executive Carrie Lam to a public debate on plans to amend the city's extradition laws. The chief executive's office has already responded that the Legislative Council remains the best venue for discussions on the details of the proposal. The Civic Party leader Alvin Yeung explained to Annemarie Evans why they believe a public debate is the best way forward.
Better protection for pedestrians needed, says Zimmerman
Listen
Southern District Councillor Paul Zimmerman says there should be greater protection for people waiting at bus stops or on traffic islands, after an accident on Aberdeen Main Road. Ten people were injured when a taxi ploughed into pedestrians there, with two admitted to intensive care for treatment. The driver has blamed a brake failure for his vehicle veering off the road. Jim Gould asked Zimmerman if the area is a traffic blackspot.