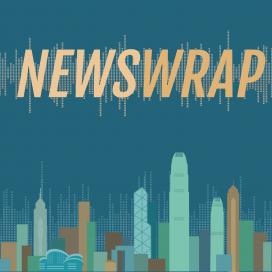 Newswrap
Description:
Our main evening newscast. Weekdays 18:00 - 19:00.
Presenter:
RTHK Newsroom
Now playing:
足本播放 Play full episode
Selected audio segments:
Warm winter weather "grave cause for concern"
Listen
Hong Kong's experiencing its second hottest Lunar New Year's eve on record, with the Observatory recording a temperature of nearly 25 degrees Celcius at around noon. The hottest ever was back in 1953. Officials say the warm weather is in part because of weaker winds on the shores of Guangdong. But temperatures are expected to fall as an easterly airstream reaches the shore Monday afternoon, bringing cloud and light rain patches. Meanwhile, the average temperature for January was the third highest on record. The Observatory says that's because the region was less affected by cold weather from the north. RTHK's Annemarie Evans asked a former head of the Observatory, Professor Lam Chiu-ying, what he made of the almost record-breaking hot weather and whether it was cause for concern.
Govt should consider outright ban on plastic utensils: Greenpeace
Listen
A pilot government campaign aimed at reducing the use of disposable plastic utensils at the city's various flower markets has so far appeared futile, with Greenpeace saying it has even seen a spike in the use of such cutlery at some of these fairs. Under the trial scheme, several green groups with government funding arranged for visitors and booth operators to get reusable bowls, plates, spoons and forks for free at most of the city's 15 Lunar New Year fairs. The groups were also responsible for arranging cleaning service to wash the utensils. But a senior campaigner at Greenpeace, Kate Lin, told RTHK's Priscilla Ng that most food stalls and customers simply aren't prepared to change their habits.