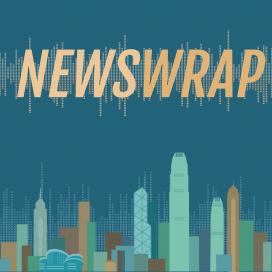 Newswrap
Description:
Our main evening newscast. Weekdays 18:00 - 19:00.
Presenter:
RTHK Newsroom
Now playing:
足本播放 Play full episode
Selected audio segments:
Gravitational waves precursor to more discoveries, says scientist
Listen
A Chinese University scientist who assisted Nobel Prize-winning physicists Rainer Weiss, Kip Thorne, and Barry Barish in their discovery of gravitational waves says humanity is on the cusp of even more scientific discoveries. Tjonnie Li says there are many phenomena in the universe that scientists know emit detectable gravitational waves and it's only matter of time before such things are witnessed. Li spoke to Jim Gould about the work of his prize-winning peers, and his contribution to the work.
Las Vegas shooter's girlfriend returns from Philippines
Listen
The girlfriend of Las Vegas shooter Stephen Paddock has returned to the United States for questioning by FBI agents. Marilou Danley had been in the Philippines when Paddock opened fire from a hotel room onto concert-goers below on the Las Vegas strip, killing 58. Authorities are investigating reports that Paddock wired her US$100,000. The Philippine-link was quickly picked up on by Filipinos and the Philippine media. RTHK's Manila correspondent Alan Robles told Todd Harding how the news was being covered in the Philippines.