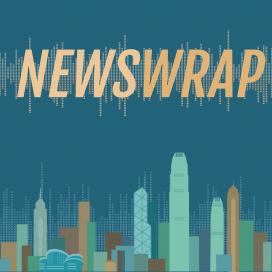 Newswrap
Description:
Our main evening newscast. Weekdays 18:00 - 19:00.
Presenter:
RTHK Newsroom
Now playing:
足本播放 Play full episode
Selected audio segments:
Green group welcomes government's plan
Listen
A green group has welcomed the government's plan to charge households between HK$30 and HK$50 a month for throwing away their household garbage. The founder and Executive Director of Green Earth, Edwin Lau, says the long-delayed plan is very much-needed, and will send a message to the public as well as the commercial sector not to produce too much waste. He tells Annemarie Evans that he hopes when legislation is introduced in the Legislative Council to put the plan into effect, all lawmakers would support it.
Lawmaker questions Jessie Ting's appointment
Listen
Hong Kong First lawmaker, Claudia Mo, has questioned the appointment of former postmaster-general, Jessie Ting, to head the Office of the Chief Executive-elect - which will have the job of ensuring a smooth government transition. She says she only remembers Ting for what she called her dumb politically-motivated attempt to cover the British royal insignia on postboxes while serving as the postmaster-general. Mo also questioned the cost of setting up the office, adding that she was taken even more aback by the appointment of Executive Councillor, Fanny Law, as its supervisor. Mo speaks to Jim Gould.