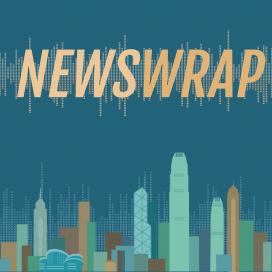 Newswrap
Description:
Our main evening newscast. Weekdays 18:00 - 19:00.
Presenter:
RTHK Newsroom
Now playing:
足本播放 Play full episode
Selected audio segments:
Helena Wong calls for Water Supplies Department boss to quit
Listen
Democratic Party legislator Helena Wong, who was at the forefront of bringing the lead-tainted water scandal to light, says the head of the Water Supplies Department should resign and be held responsible for the saga. She said that even though the official had said he wanted to express his regret, he had not admitted to mistakes. Wong told Richard Pyne that even now the official has not implemented major recommendations made by the Commission of Inquiry report.
Tiger temple made millions through animal exploitation
Listen
A Buddhist temple that is used to keep a horde of tigers was making over US$5 million every year through exploitation of these animals, reports RTHK correspondent Luke Hunt. Visitors were charged an entry fee and would pay around US$100 to pet and take photos with the tigers. Hunt told Annemarie Evans that the temple authorities were also accused of trafficking in tigers and other animals that were present at the temple. Thai authorities have now obtained a court order and are removing the animals.