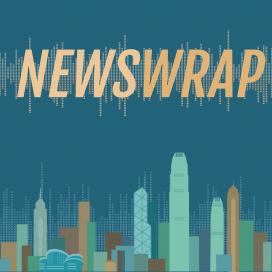 Newswrap
Description:
Our main evening newscast. Weekdays 18:00 - 19:00.
Presenter:
RTHK Newsroom
Now playing:
足本播放 Play full episode
Selected audio segments:
Government should reflect on itself in light of the Mong Kok clashes: political scientist
Listen
Political scientist, Joseph Cheng, says the government should reflect on itself why the clashes in Mong Kok took place earlier in the week. He says what it is doing now is just blaming the protesters for what happened. The police have so far charged dozens of people with rioting which carries a maximum penalty of 10 years imprisonment. But some activists have said the actions of the protesters did not amount to rioting. Cheng says the public should respect the independence of the prosecution process. But he tells Annemarie Evans some people feel that the police have not been strictly neutral in enforcing the law.
Legal challenge a big factor in land site being sold at a low price
Listen
Real estate agency Colliers says an ongoing judicial review on a large residential site in Tai Po was probably the reason why it was sold at around 50 percent below market expectations. The 40,000 square metre site in Lai Chi Shan went to China Overseas Land and Investment for just HK$2.1 billion -- around half the HK$3.7 billion to HK$4.4 billion range predicted by analysts. Environmentalists are challenging the government's decision to rezone the formerly greenbelt site as a residential plot. The Executive Director of Colliers, David Faulker, tells Jim Gould that he expects home and land prices to continue falling.