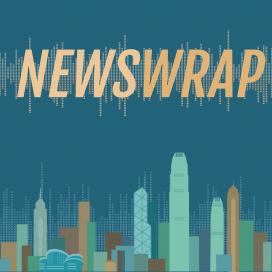 Newswrap
Description:
Our main evening newscast. Weekdays 18:00 - 19:00.
Presenter:
RTHK Newsroom
Now playing:
足本播放 Play full episode
Selected audio segments:
Sports sector encouraged by CE's pledge to review sport policy
Listen
The Chief Executive of the Hong Kong Sports Institute, Trisha Leahy, says the sector is very encouraged by the Chief Executive's pledge to review the government's sports policy. The Chief Executive, CY Leung, said the government would see how it could better support talented youngsters. Leahy spoke to Annemarie Evans.
Mediated whaling settlement to have 'limited' impact
Listen
A mediated settlement between the Sea Shepherd Conservation Society and Japan's whaling body is expected to do little to end confrontations in the Southern Ocean. The society agreed to stop disrupting Japan's annual whale hunts – but those operations are run by Sea Shepherd Australia, which said it wasn't affected by the court ruling. RTHK's Tokyo correspondent Julian Ryall spoke to Annemarie Evans about it.