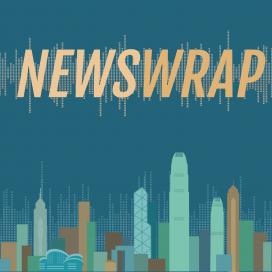 Newswrap
Description:
Our main evening newscast. Weekdays 18:00 - 19:00.
Presenter:
RTHK Newsroom
Now playing:
足本播放 Play full episode
Selected audio segments:
'Asbestos at Prince of Wales Hospital no cause for alarm'
Listen
The Prince of Wales Hospital on Thursday said materials containing asbestos have been found in a ventilation shaft during a renovation project at its Special Block. Officials said the entire floor where the cancer-causing material was discovered has been sealed off. But they said the asbestos is a low-risk type and it was in a stable condition so it does not pose a health hazard. The hospital said experts have carried out tests to make sure the area is not contaminated. Priscilla Ng asked the Medical Association's Dr Leung Chi-chiu if he was concerned about the discovery.
Conference on plastic waste reduction 'very fruitful': expert
Listen
Business leaders, green groups and government officials took part in an international conference in Hong Kong on Thursday to discuss ways to reduce plastic waste. Representatives from the European Union's office in the SAR also shared their experiences of minimising waste through the reduction, recycling, and redesign of plastic products. Simon Ng from the Hong Kong Business Environment Council, which helped organise the event, told Ben Tse about some of the main recommendations made at the conference.