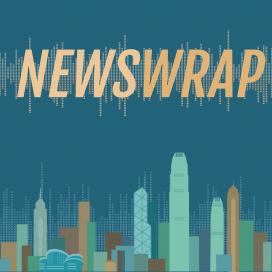 Newswrap
Description:
Our main evening newscast. Weekdays 18:00 - 19:00.
Presenter:
RTHK Newsroom
Now playing:
足本播放 Play full episode
Selected audio segments:
Pan-democrats should try to seek dialogue with Beijing officials, says lawmaker Cyd Ho
Listen
Labour Party lawmaker, Cyd Ho, says the central government should not just rely on the Chief Executive CY Leung and the pro-establishment camp to find out the problems that Hong Kong is facing. She says pan-democratic legislators like herself welcome further dialogue with mainland officials to ensure their concerns about Hong Kong are clearly and accurately reflected to the central government. Last week, five members of the Democratic Party held talks the director of the State Council's Hong Kong and Macau Affairs Office Feng Wei – though this was criticised by some pan-democrats who said the meeting was not revealed before it took place. The party's chairwoman, legislator Emily Lau, said later that she kept quiet because the central government did not want it to be publicised. Ms Ho said it was important for the pan-democratic camp to seek opportunities to communicate with Beijing officials. But she tells Jim Gould that transparency is also an important requirement.
Tourism industry still quite robust: academic
Listen
An academic says Hong Kong's tourism industry is still quite robust and has refuted a suggestion by a senior Beijing official that a recent dip in the number of mainland visitors to the city is the result of the souring relationship between Hong Kong people and mainlanders. Wang Guangya, the director of Beijing's Hong Kong and Macau Affairs Office, was quoted by the Chief Executive CY Leung as saying that protests against parallel-goods traders have damaged the relationship. Ben Tse asked the academic - Bob McKercher from Hong Kong Polytechnic University's School of Hotel and Tourism Management - what he thinks of Wang's comments.