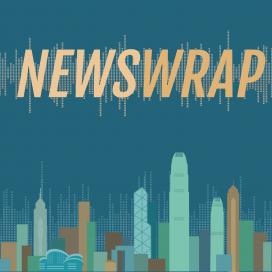 Newswrap
Description:
Our main evening newscast. Weekdays 18:00 - 19:00.
Presenter:
RTHK Newsroom
Now playing:
足本播放 Play full episode
Selected audio segments:
'Limiting protests would add fuel to fire'
Listen
With growing calls for the government to more stringently scrutinise applications for public processions; and growing speculation that authorities may consider imposing curfews in certain districts to ban protests, critics are worried that these proposed moves could undermine freedom of expression in Hong Kong. The Director of Amnesty International Hong Kong, Dr Tam Man-kei, told RTHK's Annemarie Evans it is unwise for the government to further limit people's rights to protest in the city.
Do not disrupt our services: pharmacists
Listen
The head of a pharmacists association has urged demonstrators not to disrupt the operation of drug stores during their protests. The call comes after an anti-parallel traders rally in Sheung Shui last Saturday forced the closure of most pharmacies in the area, while their gates and CCTV cameras were vandalised. Iris Chang, the Chairwoman of the Practising Pharmacists Association, told RTHK's Jim Gould that while she respects people's freedom to protest, the operation of drug stores should not be disrupted as they provide crucial services to the local community.