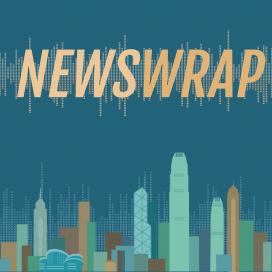 Newswrap
Description:
Our main evening newscast. Weekdays 18:00 - 19:00.
Presenter:
RTHK Newsroom
Now playing:
足本播放 Play full episode
Selected audio segments:
Democrats call for meaningful dialogue with Carrie Lam
Listen
Hong Kong First lawmaker Claudia Mo said on Friday that Chief Executive-elect Carrie Lam needs to discuss contentious issues with pro-democracy lawmakers if she is serious about mending divisions in society. Mo was one of 22 pro-democracy lawmakers who earlier called on Lam to halt the government's legal action against legislators Leung Kwok-hung, Nathan Law, Edward Yiu and Lau Siu-lai. They also say Lam should restart the political reform process, but not within the framework proposed by Beijing. Mo spoke to Annemarie Evans.
EU guidelines on Brexit talks 'constructive'
Listen
The European Union has published draft guidelines for how it intends to negotiate Britain's departure from the bloc – and signalled that the divorce proceedings should proceed as smoothly as possible. RTHK's UK correspondent Peter Anderson said the guidelines are being seen as a constructive beginning to negotiations – but the EU has also made clear what its priorities are and that the UK's future relationship with the bloc can only be discussed after sufficient progress is made. He spoke to Annemarie Evans.