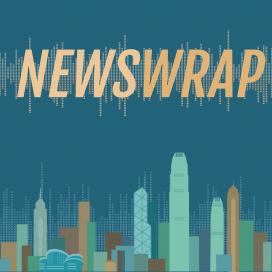 Newswrap
Description:
Our main evening newscast. Weekdays 18:00 - 19:00.
Presenter:
RTHK Newsroom
Now playing:
足本播放 Play full episode
Selected audio segments:
Airport begins work to clear Hato backlog
Listen
Airlines are working to clear a backlog of hundreds of flights, which had to be cancelled because of the arrival of Typhoon Hato on Wednesday. Hundreds of passengers were stranded at Chek Lap Kok, but RTHK's Joanne Wong tells Jim Gould that airline staff are working to address these travellers' concerns.
N Korean leaders calls for stepped up missile products
Listen
The North Korean leader Kim Jong-un has ordered increased production of rocket engines and nose cones for intercontinental ballistic missiles. Pictures released by North Korean state media showed Kim visiting a plant that makes solid fuel engines, with diagrams mounted on a wall that appeared to show one or two new missile designs. Jim Gould asked RTHK's Seoul correspondent, Frank Smith, what we should make of these pictures' publication.