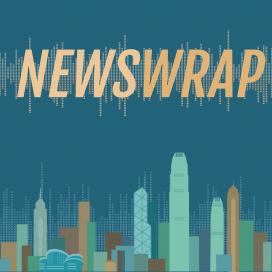 Newswrap
Description:
Our main evening newscast. Weekdays 18:00 - 19:00.
Presenter:
RTHK Newsroom
Now playing:
足本播放 Play full episode
Selected audio segments:
Junius Ho clarifies his comment on killing independence advocates
Listen
Pro-establishment legislator, Junius Ho, has denied suggesting that those who advocate Hong Kong independence should be killed. He says when he made the comment at an anti-independence rally on Sunday, he didn't mean that the lives of such people should be taken. Ho told Jim Gould what he meant was that attempts should be made to put a stop to what he called the "incorrect approach" being taken by some people.
People in Macau want change following election
Listen
Eilo Yu, who teaches politics at the University of Macau, says the result of Macau's Legislative Assembly election on Sunday shows that the public wants a change in the legislature by having lawmakers who are more critical of the government. He says Sulu Sou, who heads the pro-democracy group New Macau Progressive, was elected and is seen as a controversial figure by some pro-establishment legislators. Yu spoke to Cecil Wong.