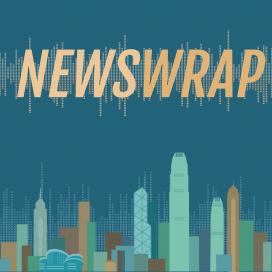 Newswrap
Description:
Our main evening newscast. Weekdays 18:00 - 19:00.
Presenter:
RTHK Newsroom
Now playing:
足本播放 Play full episode
Selected audio segments:
Beijing's hardline policy expected to continue
Listen
Political commentator, Joseph Cheng, says he expects Beijing's hardline policy towards Hong Kong to remain roughly unchanged under Zhang Xiaoming who has been appointed as the new director of the Hong Kong and Macau Affairs Office. He says he doesn't expect any concessions from the office over democratic development in the territory either. Cheng tells Jim Gould that Beijing's Liaison Office in Hong Kong is also expected to play a very high profile and active role under its new leader, Wang Zhimin.
Catering sector describes proposed fee increase absurd
Listen
Representatives from the catering and entertainment industries have voiced opposition to a government plan to raise liquor-license fees. Officials are proposing an increase for the first time in two decades. But industry representatives attending a Legco public hearing, complained that the fee hike is too steep. For example, the cost of transferring a license could go up from HK$140 to more than HK$5,000. The lawmaker representing the catering sector, Tommy Cheung, told Ben Tse that the proposed increase is absurd.