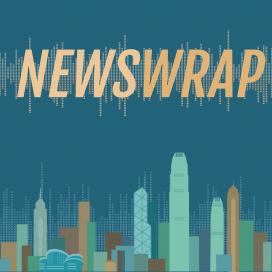 Newswrap
Description:
Our main evening newscast. Weekdays 18:00 - 19:00.
Presenter:
RTHK Newsroom
Now playing:
足本播放 Play full episode
Selected audio segments:
Government advised to lower low-income family allowance criteria
Listen
A social work professor from Chinese University has urged the government to relax eligibility criteria for its low-income working family allowance, as the scheme is benefiting far fewer households than expected. The scheme was supposed to benefit 200,000 households - but Professor Wong Hung says a strict requirement on working hours and a income limit that is set too low means the number of beneficiaries is much lower. He spoke to Jim Gould about what should be changed.
Former Thai PM sentenced in absentia to five years in prison
Listen
Former Thai prime minister Yingluck Shinawatra has been sentenced to five years in prison for her involvement in a rice subsidy scheme introduced by her government. But Yingluck wasn't in court to hear the verdict -- she fled the country last month, just before the ruling in her case was due to be handed down. It's thought she has fled to the home of her brother, Thaksin - another former Thai PM living in exile, possibly in Dubai. RTHK's Southeast Asia correspondent, Larry Jagan, told Todd Harding that the sentence was not a surprise.