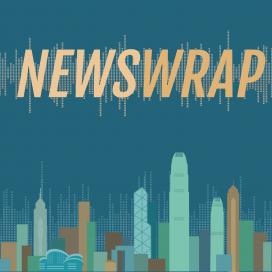 Newswrap
Description:
Our main evening newscast. Weekdays 18:00 - 19:00.
Presenter:
RTHK Newsroom
Now playing:
足本播放 Play full episode
Selected audio segments:
Liu Xia's release a gesture unrelated to humanitarian grounds: analyst
Listen
Liu Xia, the widow of the mainland Nobel peace laureate and human-rights icon Liu Xiaobo, has been freed by Beijing on Tuesday, and will be staying in Berlin. Her release came almost a year after her husband's death. China analyst Mark O'Neill told Annemarie Evans that he expects Liu to stay low key at least in the near future. He added he believes Beijing's decision to free her was not made on any humanitarian grounds, but to secure better relations with the European Union now that China's engaged in a trade war with the US.
Difficult year ahead for legislature: Dennis Kwok
Listen
The vice-chairman of Legco's House Committee, Dennis Kwok, says he expects a more difficult year ahead, as the legislature prepares to handle the government bill on National Anthem laws, as well as more changes to the rules of procedures proposed by the pro-establishment camp. That's despite what appears to be a rather efficient year, after lawmakers passed one members' bill and 26 government bills -- including one on the co-location arrangement. Kwok told Jim Gould that Legco is now enjoying a better relationship with the executive, but said he hopes there will be further improvements.