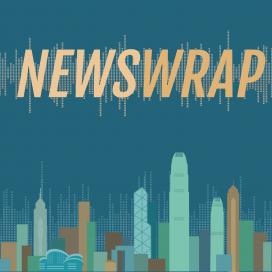 Newswrap
Description:
Our main evening newscast. Weekdays 18:00 - 19:00.
Presenter:
RTHK Newsroom
Now playing:
足本播放 Play full episode
Selected audio segments:
Garden HQ redevelopment plans angers conservationist
Listen
Heritage campaigners have expressed their frustration after town planners approved the Garden company's proposal to turn their headquarters – a grade two historic building – into a 25-storey commercial complex. The decision from the Town Planning Board paves the way for the 1950s-era building to be mostly demolished, but there are plans to preserve the building's iconic clock. The decision has angered conservationist Yuen Chi-yan, and he told Jim Gould that it again raises questions about the commitment to preserve historically significant buildings.
Thaw on the cards for India and Pakistan
Listen
Neighbours India and Pakistan will soon be talking again, with their foreign ministers scheduled to meet on the sidelines of the UN General Assembly in New York next week. It's a significant development after a recent freeze in ties. Relations between the two countries have been strained since terror attacks in India by Pakistan-based groups in 2016, and India's surgical strikes inside Pakistan-occupied Kashmir. RTHK's Delhi correspondent Murali Krishnan told Jim Gould that these latest developments follow on from Pakistan's new Prime Minister Imran Khan writing a letter to his Indian counterpart, Narendra Modi.