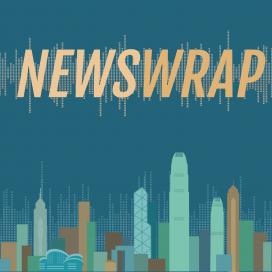 Newswrap
Description:
Our main evening newscast. Weekdays 18:00 - 19:00.
Presenter:
RTHK Newsroom
Now playing:
足本播放 Play full episode
Selected audio segments:
Task force submits land supply proposals
Listen
A government-appointed task force looking into Hong Kong's land supply has recommended the government pursue eight options that it says would generate 2,900 hectares of land for development over the next three decades. These include creating a thousand-hectare artificial island off Lantau, and using a part of the Fanling golf course for development. Annemarie Evans asked Professor Ng Mee-kam, an expert in sustainable development and the director of the Chinese University of Hong Kong's Urban Studies Programme, whether the task force's report had accurately reflected the public's views.
Hong Kong welcomes in 2019
Listen
Celebrations are getting underway across Hong Kong to welcome 2019. Many people are expected to go outdoors for the countdown to the new year, with crowds forming on both sides of the harbor to witness the fireworks. RTHK's Damon Pang was at the Tsim Sha Tsui harbourfront, and told Priscilla Ng about the events that are planned around the city.