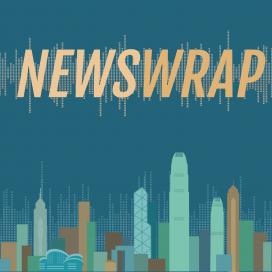 Newswrap
Description:
Our main evening newscast. Weekdays 18:00 - 19:00.
Presenter:
RTHK Newsroom
Now playing:
足本播放 Play full episode
Selected audio segments:
CTU says minimum wage should be reviewed annually
Listen
The Confederation of Trade Unions says the city's minimum wage levels should be reviewed every year – instead of the current two years – as low-income workers are still struggling to earn enough to live on. The Executive Council has endorsed a wage rise this year of HK$3, to HK$37.50. But Carol Ng, who chairs the confederation, told Jim Gould that this figure is still short of what they would consider acceptable:
Roadside emissions a public health emergency: Clean Air Network
Listen
The environmental group Clean Air Network says the government needs to start treating the city's roadside air quality as more of a public health emergency, after the latest official data showed high levels of Nitrogen Dioxide and rising levels of Ozone. The government however says its emission-control measures are working, as concentrations of other pollutants have dropped by as much as 50 percent in recent years. The chief executive officer of the Clean Air Network, Patrick Fung, spoke to Annemarie Evans.