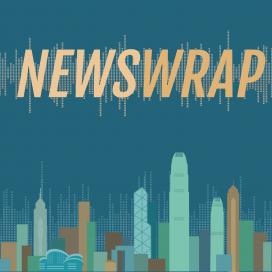 Newswrap
Description:
Our main evening newscast. Weekdays 18:00 - 19:00.
Presenter:
RTHK Newsroom
Now playing:
足本播放 Play full episode
Selected audio segments:
Xi speech 'influenced' by recent elections, US-Taiwan ties
Listen
President Xi Jinping says the Hong Kong example of "One Country, Two Systems" is the best approach to reunify Taiwan with the mainland. In a speech marking the 40th anniversary of an open letter by Beijing on its policy towards the island, President Xi also warned that Beijing wouldn't rule out using force against the island. Taiwan's President Tsai Ing-wen hit back, insisting Taipei does not accept "One Country, Two Systems". China analyst Mark O'Neill told Annemarie Evans there's nothing new in President Xi's remarks, but he could have been influenced by the recent defeat in local elections of the ruling Democratic Progressive Party and closer ties between Taipei and Washington.
Women enter Kerala temple at centre of protests
Listen
Two women have entered one of Hinduism's holiest temples in south India, bypassing protesters who have been refusing to allow women of child-bearing age to worship there. The country's Supreme Court ordered the end of a long-standing ban on women aged between 10 and 50 from entering the temple in September, and tens of thousands of women on Tuesday formed a human chain across Kerala in support of the court order. RTHK's Delhi correspondent Murali Krishnan told Annemarie Evans about the two women who entered the shrine.